F.A.Q.
Tickets can be purchased over the phone by contacting the hotel directly on (08) 8431 1822 7 days a week after 9am til late via credit card alternately can be purchase over the bar at the Norwood Hotel 7 days a week after 11am
Tickets offered for the shows are:

Show Only - standing only space

Dinner & show: offers a 2 course meal and your seat for the show

Dinner & show tables cater for 10 guests. If you purchase 2 dinner & show tickets you will placed with other guests to make up a table of 10. We ask our dinner & show guests to be seated by 7pm
Dietary requirements are catered for – please advise at the time of making your booking. The menu changes for every show and is made up of a choice of 2 entrees & 4 mains
Doors open @ 6.30pm. Support acts are on stage from 8.30pm with the main act coming from 9.30pm onwards
Eftpos facilities are available in Norwood Live along with wheelchair amenities
Although the show is ticketed as an 18+ event minors are allowed to attend as a SHOW ONLY guest (full ticket price applies) if accompanied by a parent. To fall in line with liquor licensing all minors must be off premise by midnight.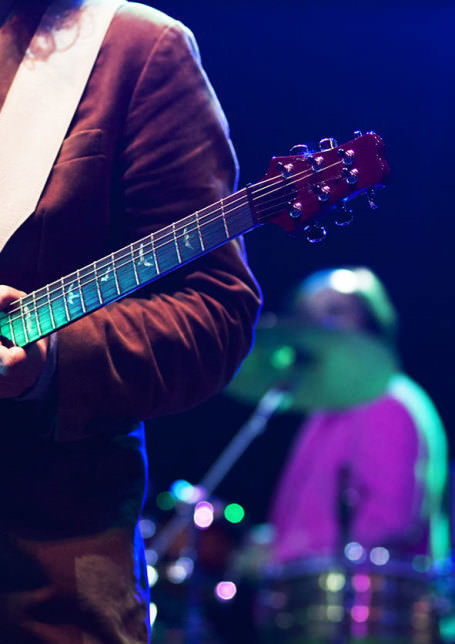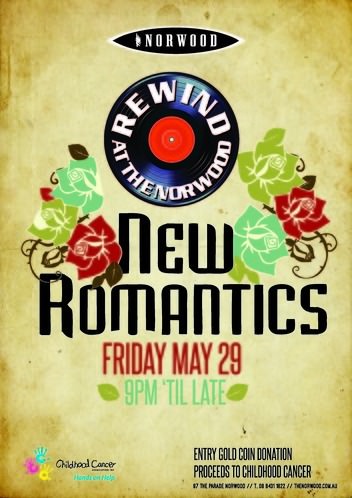 The New Romantics
Rewind at the Norwood
Presenting pop music at its finest, New Romantics are one of Australia's most in-demand corporate bands. Presenting a high energy show, New Romantics capture the sounds and essence of the world's top selling and most successful '80s artists.
With a powerful rhythm section, scorching guitars, a dynamic front man and three part vocals, there's not a tune New Romantics can't cut. With a mixture of incredible sequencing, programming and live performance, New Romantics recreate the best of pop music from ABC to WHAM!
One of the most experienced bands around, New Romantics have played between innings at international cricket matches, at the Australian Grand Prix, and to crowds of thousands at many outdoor events and festivals. They have also entertained intimate crowds, such as Pat Rafter's US Open title winning party and at the Opening Night Party of the musical Chicago.
Gold Coin Donation with proceeds going to Childhood Cancer
18+ Only - Photo ID required
9pm until late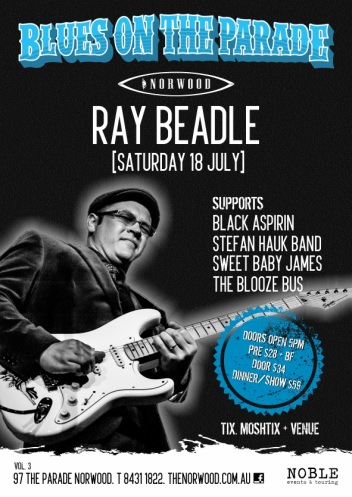 Blues On The Parade
Featuring Ray Beadle & Special Guests
With Special Guests:
Black Aspirin
Stefan Hauk Band
Sweet Baby James
The Blooze Bus

Tickets onsale 9am Friday 8th May
Dinner & Show $59 (Available at the Venue Only)
Show Only from $28
Tickets available at venue
Booking fee may apply
Doors Open from 5pm
Absolutely 80's
Buy Tickets Online
It's the 1980's…..Think back…What were you doing?
It's the era when we had big hair and lots of hairspray, shoulder pads, bubble skirts and blue eyeliner, we watched Hey Hey it's Saturday and Countdown, and pub rock was huge 7 days a week!
Look out the 80's are back in 2015 with three of the best Aussie pop icons from the 80s, creating two hours of epic 80s flashbacks.

Featuring: Brian Mannix - Uncanny Xmen
Scott Carne - Kids In The Kitchen
Dale Ryder - Boom Crash Opera

It's the 80's Reunion Party not to be missed. So dust off your best 80s gear and get ready to dance, party and reminisce – catch the biggest and best Australian 80's stars together in one big show.
Tickets available 9am Friday 8th May
Price: Dinner & Show $69 (Available at the Venue Only)
Show Only from $30
Tickets available at venue
Booking fee may apply
18+ Only - Photo ID required
Doors Open from 6.30pm