F.A.Q.
Tickets can be purchased over the phone by contacting the hotel directly on (08) 8431 1822 7 days a week after 9am til late via credit card alternately can be purchase over the bar at the Norwood Hotel 7 days a week after 11am
Tickets offered for the shows are:

Show Only - standing only space

Dinner & show: offers a 2 course meal and your seat for the show

Dinner & show tables cater for 10 guests. If you purchase 2 dinner & show tickets you will placed with other guests to make up a table of 10. We ask our dinner & show guests to be seated by 7pm
Dietary requirements are catered for – please advise at the time of making your booking. The menu changes for every show and is made up of a choice of 2 entrees & 4 mains
Doors open @ 6.30pm. Support acts are on stage from 8.30pm with the main act coming from 9.30pm onwards
Eftpos facilities are available in Norwood Live along with wheelchair amenities
Although the show is ticketed as an 18+ event minors are allowed to attend as a SHOW ONLY guest (full ticket price applies) if accompanied by a parent. To fall in line with liquor licensing all minors must be off premise by midnight.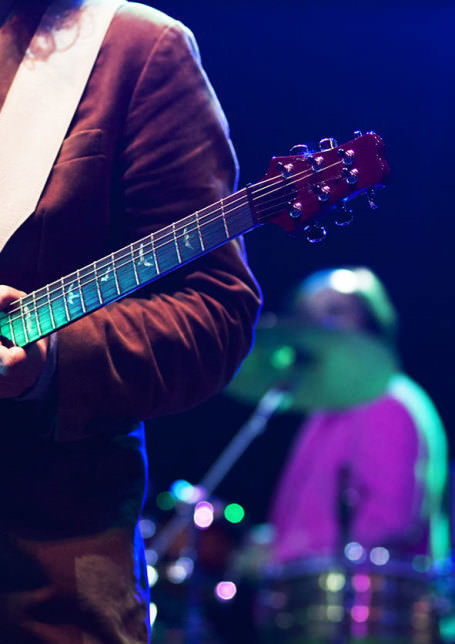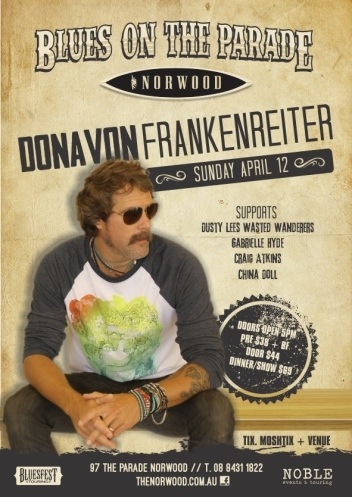 Blues on The Parade featuring Donavon Frankenreiter
With supports
Buy Tickets Online Now
Blues on The Parade headlined by Donavon Frankenreiter. Supported by some awesome talent – Dusty Lees Wasted Wanderers, Gabrielle Hyde, China Doll & Craig Atkins.
To create his fifth full-length album Start Livin', Hawaii-based singer/guitarist/songwriter Donavon Frankenreiter holed up in a Southern California studio for seven days with his longtime bassist Matt Grundy - and no one else. The follow-up to 2010's Glow, Start Livin' is a nine-track selection of folk-infused songs that sweetly reflect the simplicity of their recording. With its smooth showcasing of Frankenreiter's rich, honey-thick vocals and masterful guitar work, Start Livin' bears all the intimacy of an impromptu back-porch performance and the tenderness of a treasured love letter.
For Frankenreiter, the essence of Start Livin' is most fully captured in its album-opening title track. Accented by handclaps and a stick-in-your-head harmonies, "Start Livin'" is a feel-good, uptempo call to "celebrate tonight." "To me the most beautiful thing about this record is it really reflects who I am today," says Frankenreiter. "Start Livin' means stop worrying about where you've been, where you're going-just start embracing what you have around you. Start loving what you have right now."
Don't miss Blues on The Parade.
Show Only - $38+BF
Dinner & Show - $65+BF
Door - $44
Tickets available at venue
Booking fee may apply
18+ Only - Photo ID required
Doors open 5pm